Baytown and Channelview Home Care: The Ins and Outs of a Fire Evacuation Plan
7/26/2016 (Permalink)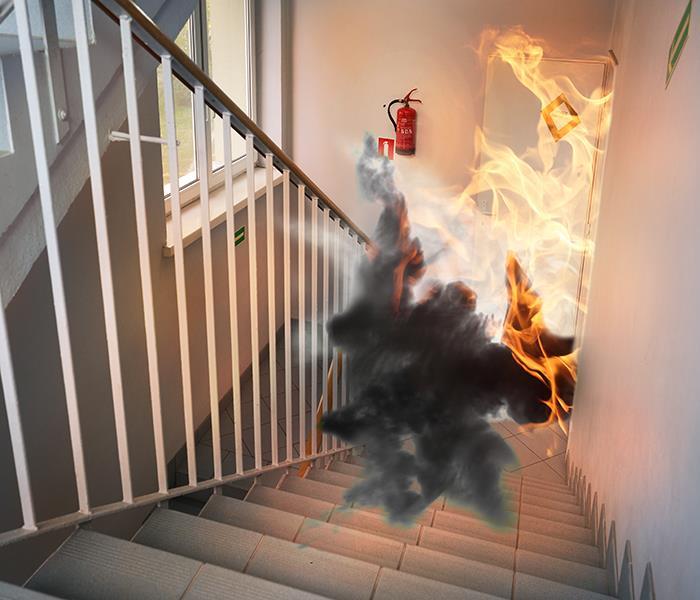 Fire experts agree that people may have as little as 2 minutes to escape a burning home before it's too late to get out.
Do you and your family know the best route to get out of your Houston area home in the event of a fire? Unfortunately, very few families actually plan, test, and practice home evacuation in the event a fire damages their home. You simply cannot depend on your main points of access (front, back, or patio doors) to be accessible during a fire. That is why it is important to have a plan that works for a variety of different situations, and that each family member knows which route to take during an emergency evacuation.
SERVPRO of Baytown & Channelview wants to remind our neighbors that a home fire can be the result of a lightening strike, bad wiring, candles, a kitchen fire, or a host of other unforeseeable circumstances. Whatever, the cause, we stand at the ready to help home and business owners throughout the greater Houston area bring their properties back to pre-fire and smoke damage condition.
We hope you will never need your emergency plan, but just to be on the safe side, here are 8 steps you can follow to prepare, test, and practice a fire evacuation plan for your home:
1. Identify 2 exit points for each room. These usually include the main interior door and a window.
2. Chart each room's exit points on a mock-up of your home. It doesn't have to be to scale; the point is for you to be able to visualize the best points of egress in the event of an emergency.
3. Play "What If?" What if the fire broke out in the kitchen while everyone was asleep? What would the best exit plan for each bedroom be? What if the fire broke out in the attic while the kids were upstairs and the adults were in the basement? Which exits should everyone use?
4. Walk the routes. Test each route and access point, including windows. Any windows with security bars should have an emergency release, and each family member should know how to use it.
5. Test smoke alarms. Make sure everyone in the home knows the sound your smoke alarms make. You don't want anyone to delay evacuating the home during a fire because they don't recognize the alarm.
6. Select a meet-up area. Choose where you and your family will meet after an evacuation. It needs to be a safe distance from your home, like a mailbox at the end of your driveway.
7. Try out each "What If" scenario. Have your family test each evacuation route. Then test in the dark, and see if everyone can still manage to find their way out quickly. During the tests, take note of furniture or other items that impede evacuation. Additionally, pay attention to landscaping that needs pruning.
8. Make changes to evacuation plan, and practice. While it's impossible to plan for every possibility, preparing your family before a fire sweeps through your home will allow for a quicker exit, and could potentially save lives. Practice monthly or quarterly, paying attention to any windows that are sticking, and always look for ways to make the process faster.
Your locally owned SERVPRO stands at the ready to assist you throughout your fire damage restoration process. If disaster strikes your home, rest assured that we will do everything in our power to bring your home back to pre-fire and smoke damage condition as quickly as possible.
About Baytown and Channelview SERVPRO
SERVPRO of Baytown and Channelview are Faster to Any Size Disaster, helping residential and commercial property owners when natural disasters, water damage, sewage backups, floods, fires, mold infestations, and other events happen.